What is Laminated Glass?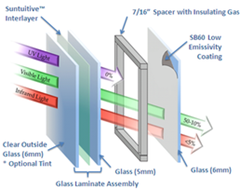 One of the questions that we often get asked is how the Suntuitive interlayer is incorporated into windows. Our response is it gets laminated to glass that is then fabricated into an insulating glass unit (IGU). From there, the IGU is installed just like any conventional window system. This leads to the next question: "What is laminated glass?"
Laminated glass is a lot more common than we realize. In fact, most of us sit behind it every day as it is what's used for car windshields.
Laminated glass is a type of safety glass made by applying heat and pressure to two or more layers of heat-strengthened or tempered glass, which are separated by an interlayer—typically polyvinyl butyral (PVB). The interlayer works to hold the glass fragments together if hit with an impact that would normally shatter it, such as wind storms, bomb blasts, bullets, and forced entry.
In a home or office window application, laminated glass can incorporate high-performance and dynamic glass products to also offer significant energy savings, reduced outside noise, and less carpet-fading ultra-violet light.
PVB is the base of the Suntuitive interlayer. By incorporating our technology into this tried-and-true product, we were able to maintain all of the benefits of the safety interlayer and make it extraordinary for window applications.
Questions? Leave them in the comment section.