See it. Experience It. Spec it.
Once you experience Suntuitive Dynamic Technology, you will realize the incredible opportunities dynamic glass offers to improve building occupant's well-being. Life behind Suntuitive Dynamic Glass is more comfortable, more sustainable, and more productive. These benefits will increase the value of any project or building.
Specifying Suntuitive Dynamic Glass
The Suntuitive Dynamic Glass product range includes high-efficiency double pane IGUs (Insulated Glass Units). For an even higher performance we also offer triple-pane configurations. Both can be specified in a range of sizes, colors and even shapes.
Since our dynamic technology does not require any power sources other than the sun, is easy to install, and is completely wireless, it is the best choice when it comes to retrofitting existing buildings with dynamic glass.
Suntuitive IGUs are fabricated in-house in the US and through a network of certified partners worldwide so we can provide you with the best quality!
Please let us know if we can help you specifying Suntuitive Dynamic Glass.
Typical glass make-up
Suntuitive Dynamic Glass consists of an interlayer that is laminated between two pieces of heat strengthened or tempered glass which becomes the outer lite of an insulated glass unit (IGU) with a low emissivity coating. A warm edge spacer is also recommended.
The [image] shows a typical 1" overall thickness IGU that is recommended.
Suntuitive Dynamic Glass can be used in standard laminate IGUs, double laminate IGUs, or triple pane IGUs with an overall thickness of ¾" or greater.
In some applications, monolithic Suntuitive Dynamic Glass can be appropriate.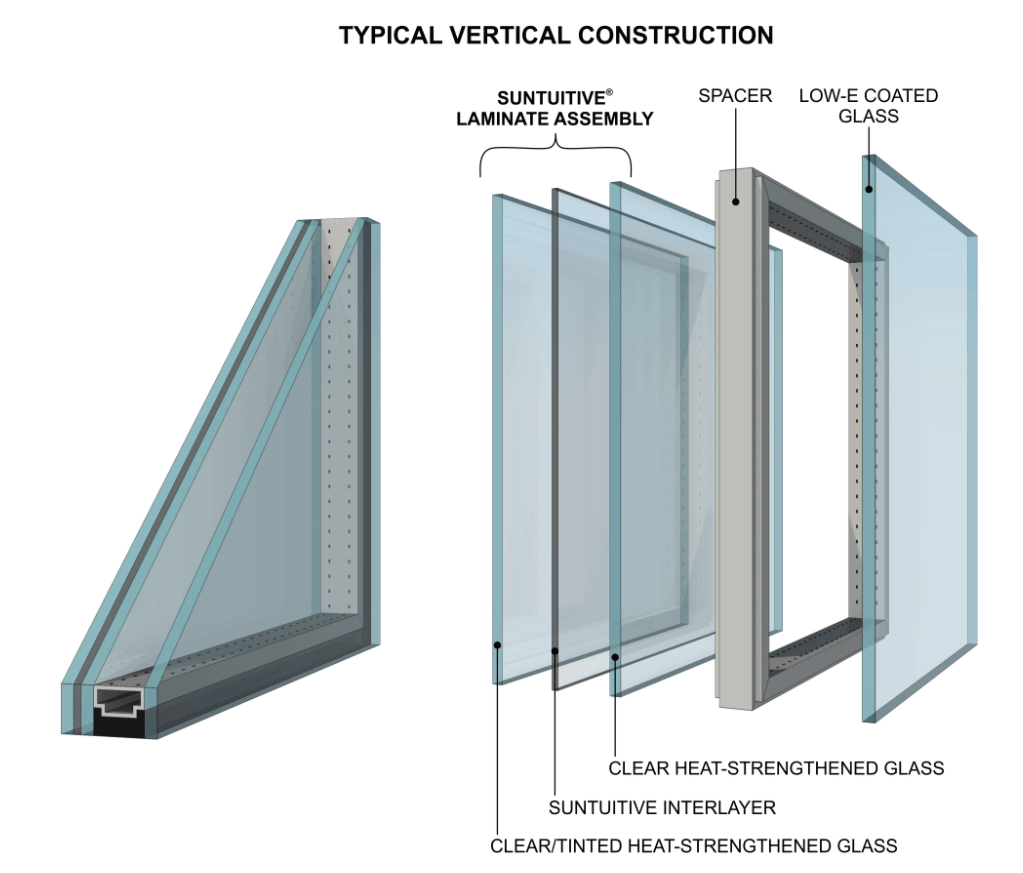 Let's get started
As a perfect fit for many projects you are probably wondering how Suntuitive Dynamic Glass will fit into your budget. We are happy to provide a quote and more information!
You may also be interested in this: