The Real-World Value of Dynamic Glass
Suntuitive Dynamic Glass does more than offering solar control and optimal daylighting. It adds value to the built environment and offers on-going savings on energy, maintenance and most importantly, human-related costs.
Invest in More than Just Glass. Invest in well-being.
By providing optimal daylighting and keeping out excess solar energy, Suntuitive increases the comfort of those living and working inside buildings. Studies have shown the benefits of improving thermal and visual comfort and offering more daylight including an increase in worker productivity and decrease in sick time, improved test scores for students, quicker healing times for hospital patients, and an increase in retail sales volumes.
When it comes to valuing an investment in Suntuitive Dynamic Glass, the human experience and cost are the largest factor.  A study by the US Department of Labor for example showed that productivity costs are 112 times larger than energy costs, so any positive change made there will have the highest impact on overall cost!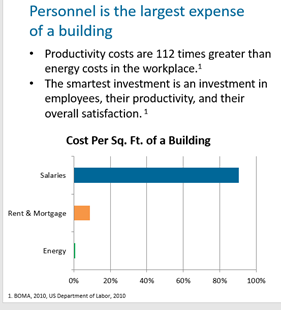 Additional benefits such as enhanced UV protection, noise reduction, and increased safety also increase the value of your building.
Invest in Energy Savings & A Sustainable Future
Suntuitive Dynamic Glass minimizes energy use by reducing heating loads in winter and cooling loads in summer. Independent research at Lawrence Berkley National Laboratory showed that the use of Suntuitive Dynamic Glass can reduce the heat load of a building and save up to 43% on energy usage. Reducing heating loads also means less stress on the HVAC system, potentially allowing for a smaller HVAC system to be utilized.
Suntuitive also allows more natural light to enter a building, creating daylight autonomy- basically, more natural light means less need for artificial light. Using less artificial lighting saves energy and also has a positive effect on building occupants.
Suntuitive Dynamic Glass can help your building be more energy efficient. Suntuitive is great for projects with a strong focus on energy savings and sustainability. Use of Suntuitive Dynamic Glass can also contribute to credits toward LEED or BREEAM certification.
Pricing
Determining costs for Suntuitive Dynamic Glass depends on several factors including overall quantity needed, individual unit size, glass options, delivery area, end application and more. Please contact us directly for more information and we'll work to get you the details you need to utilize Suntuitive Dynamic Glass in your building and determine the value of dynamic glass for your situation.
Let's Get Started!
You may also be interested in this: