Bulletproof Safety Glass For Schools.
Thompson Innovative Glass, manufacturer of Suntuitive, is proud to introduce insulated bulletproof safety glass for schools that combines the benefits of high-efficiency insulated glass with the safety aspects of forced entry protection and bullet resistance. School staff and students can work in an environment that is filled with light and safe at the same time. A peace of mind that promotes top performances!
Safety With A View
Thompson's line of Defender® glass products offers a clear view of the outside while protecting those inside. As an industry leader in advanced glass and lamination technologies, Thompson offers customers throughout North America a full line of high-quality, custom glass products. The Defender glass series that includes our SchoolDefender product, offers many choices and eliminates specific threats. SchoolDefender's forced-entry protection products have been tested to withstand extensive physical attacks and promotes school safety. SchoolDefender also offers a bullet resistant (BR) option. Our Defender BR-rated products are certified through third-party testing to meet and exceed industry standard UL safety code requirements for those levels.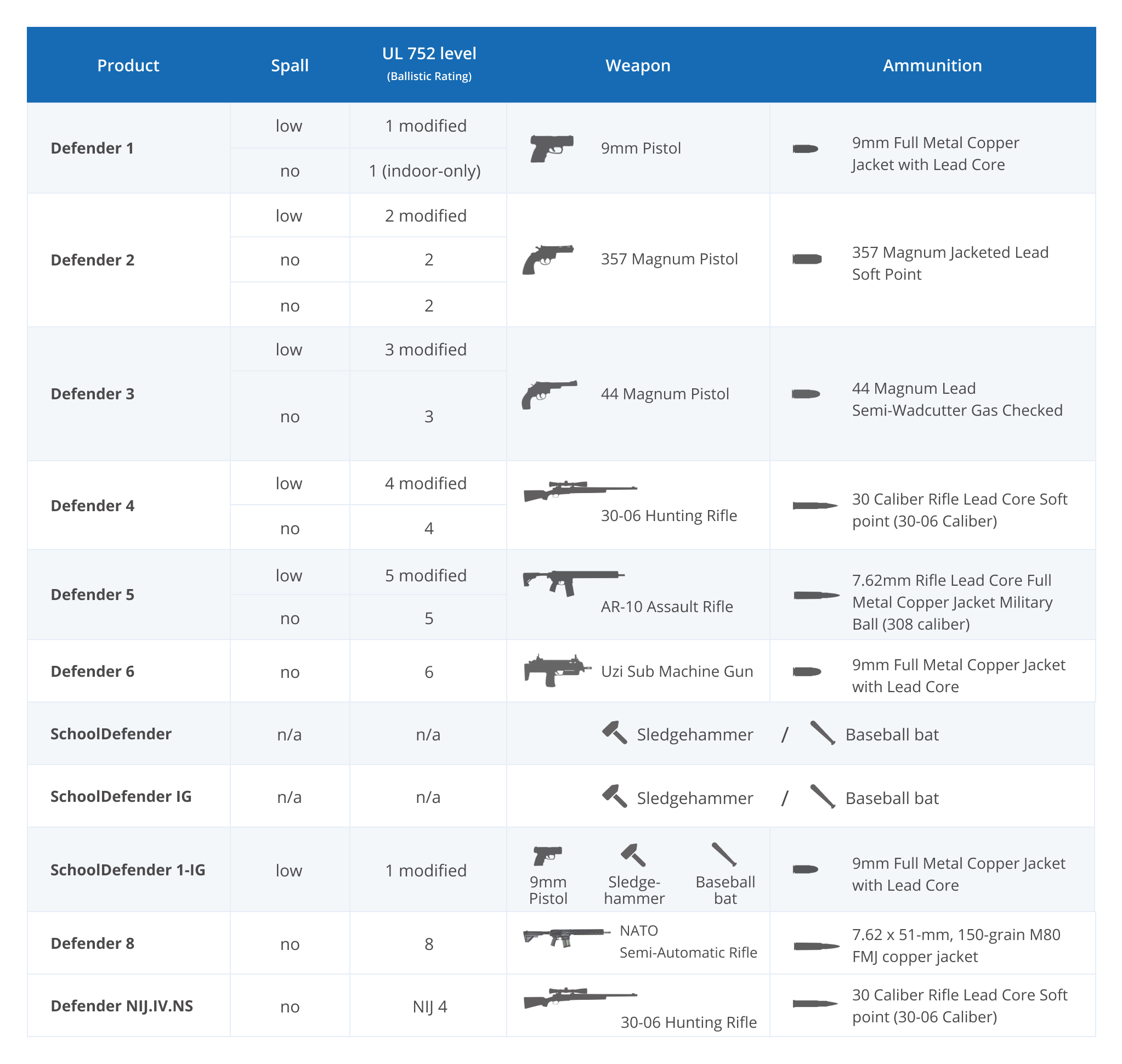 SchoolDefender – Your first line of Defense
Many articles have been written about the relationship between feeling safe and school performance. Fact is: when students feel safer they perform better. When it comes to school buildings the exterior glass is one of the greatest school safety vulnerabilities. You can give your staff and students the safe environment that they need by installing SchoolDefender. SchoolDefender delivers multiple levels of security without losing the design and comfort advantages of high-efficiency insulated glass.
Efficient Daylighting In Schools Done Safer.
For too long architects had to reduce the window-to-wall ratio as a measure to increase school safety. Glass was considered a weak point and in many cases traditional non-protective glazing is indeed that. However with the development of SchoolDefender, the performance needed to protect is there, as are the benefits with natural light and the occupant comfort that goes with it. When it comes to bulletproof safety glass for schools, SchoolDefender has you covered as your first line of defense.
Get More Information
At Thompson Innovative Glass we are proud to do our part to keep building occupants safe. Instead of simply being a supplier, we enjoy partnering with you so you get the best solution and ROI for your specific project. When it comes to safety glass, we don't think one size fits all. So let's take a look at your project and figure out the best solution together.
Please contact us now at 810.629.9558, send an email to [email protected] or visit http://www.thompsonig.com for more information.