Insulated Bulletproof Glass.
Thompson Innovative Glass, manufacturer of Suntuitive, is proud to introduce insulated bulletproof safety glass that combines the benefits of high-efficiency insulated glass with the safety aspects of forced entry protection and bullet resistance. Now you can have a work environment filled with light and the peace of mind of working in a secure space!
Safety With A View
Thompson's line of Defender® glass products offers a clear view of the outside while protecting those inside. As an industry leader in advanced glass and lamination technologies, Thompson offers customers throughout North America a full line of high-quality, custom glass products, including bulletproof glass. The Defender glass series offers many choices and eliminates specific threats. Defender's forced-entry protection products have been tested to withstand extensive physical attacks. Several Defender products also offer different levels of bullet resistance (BR). Our Defender BR-rated products are certified through third-party testing to meet and exceed industry standard UL safety code requirements for those levels.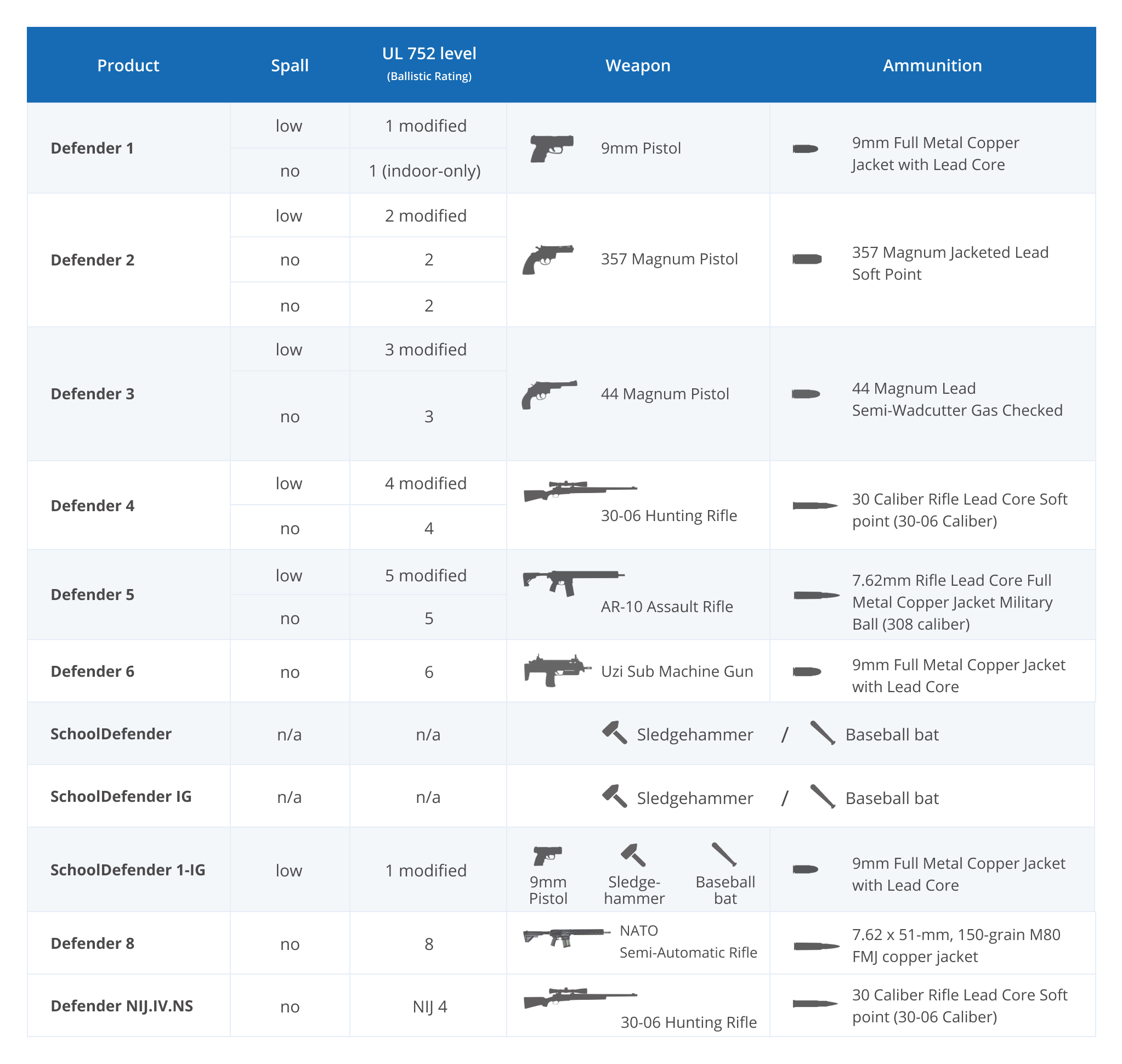 Defender – Your first line of Defense
Embassies, federal buildings, courthouses, stadiums and community centers. These are just some of the structures that currently demand some sort of protective glazing. These are important public structures that are designed for advanced protection. Defender delivers multiple levels of security without losing the design and comfort advantages of high-efficiency insulated glass.
Defender Glass – Benefits
Even though safety is generally considered to be the number one priority of those looking for forced-entry protection or bullet-resistant glass, there are actually many additional benefits:
Allows damaged glass to be replaced at your convenience because it remains functional
Provides time for occupants to react and first responders to arrive
Offers the same aesthetics as regular insulated glass
Reduces sound
Deters criminals after initial attempt at impact
Adds additional benefit of severe weather protection when used as an exterior application
Get More Information
At Thompson Innovative Glass we are proud to do our part to keep building occupants safe. Instead of simply being a supplier, we enjoy partnering with you so you get the best solution and ROI for your specific project. When it comes to safety glass, we don't think one size fits all. So let's take a look at your project and figure out the best solution together.
Please contact us now at 810.629.9558, send an email to [email protected] or visit http://www.thompsonig.com for more information.