What you need to know about residential window frames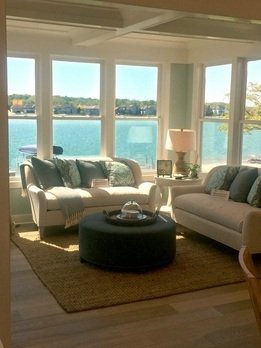 If you're in the market for new or replacement windows, chances are you're looking at different frame materials and trying to decide which is best for your home and budget. Not only does the frame affect the look and cost of the window, but the material also contributes to its overall durability and energy efficiency
While vinyl, wood, fiberglass, wood/plastic composite, and aluminum are all common frame materials, each has its advantages and disadvantages. Below are some pros and cons to help you make an informed decision.
Vinyl Frames
Offer high value at a low cost
Provide resistance to heat transfer and good insulating properties
Resist fading, dirt, stains, mold, scratches, and dents
Will last a long time and are virtually maintenance-free
Are not as durable or stable as other options, and are susceptible to seal failure
Are not as aesthetically appealing as other options
Offer a limited color selection and cannot be painted
Can warp or flex in extreme heat
Wood Frames
Provide excellent insulation from weather and sound
Complement any design scheme and architectural style
Can be stained, painted, or left in its natural color
Will last a lifetime or more with regular maintenance
Require more maintenance than other options, such as resealing and refinishing
Expand and contract in response to weather conditions
Can warp, buckle, and rot, and are susceptible to termites and deterioration
Cost more than vinyl, but add value to a home
Fiberglass Frames
Can provide a look that's similar to wood
Provide strength and durability to hold large expanses of glass
Won't leak, warp, expand, contract, or rot
Won't fade but can be painted if design schemes change
More expensive than other options
Options are somewhat limited
Relatively new framing material, so long-term performance is unknown
 Not as maintenance-free as vinyl or aluminum
Composite Frames
 Are made from two or more frame materials—typically wood fiber and an epoxy resin—offering the benefits of each
 Offer thermal and structural properties that are similar to wood, but better moisture and decay resistance
 Interior can be painted
Require little exterior maintenance
Cost more than vinyl, but less than wood
Relatively new framing material, so long-term performance is unknown
Limited number of manufacturers
Although they can be made from recycled materials, they cannot be recycled themselves
Aluminum or Metal Frames
Offer strength and durability with slim frames to help maximize views
Long-lasting and reliable
Require little maintenance
Can be painted
Not common for residential windows
Not as energy efficient as other materials and poor insulating properties will make the frame get hot when it's hot out and vice versa
Not as visually appealing as other materials
Known for allowing condensation to build up between window panes
The good news is that no matter the type of framing you prefer, Suntuitive glass can be used in any of them! Questions? Let us know in the comments.