World's first dynamic Bulletproof safety glass.
With Suntuitive Defender we are introducing the first  dynamic bulletproof safety glass product in the world that combines the benefits of dynamic glass with the safety aspects of forced entry protection and bullet resistance. Now you can have a work environment filled with light, made comfortable by dynamic glass, and the peace of mind of working in a secure space!
The Most Adopted Dynamic Glass is now also the Safest
Suntuitive Defender takes the best of the traditional Suntuitive product advantages (optimized daylight, solar control, design freedom, and increased value) and adds an important new set of benefits. Forced Entry Protection, Attack Resistance and Bullet Resistance are now available with Suntuitive Defender. This product line was developed with safety and security in mind and is perfect for high value structures that either need protective glass by code or want it for that additional safety and security setting, but at the same time do not want to compromise when it comes to occupant comfort and glass performance.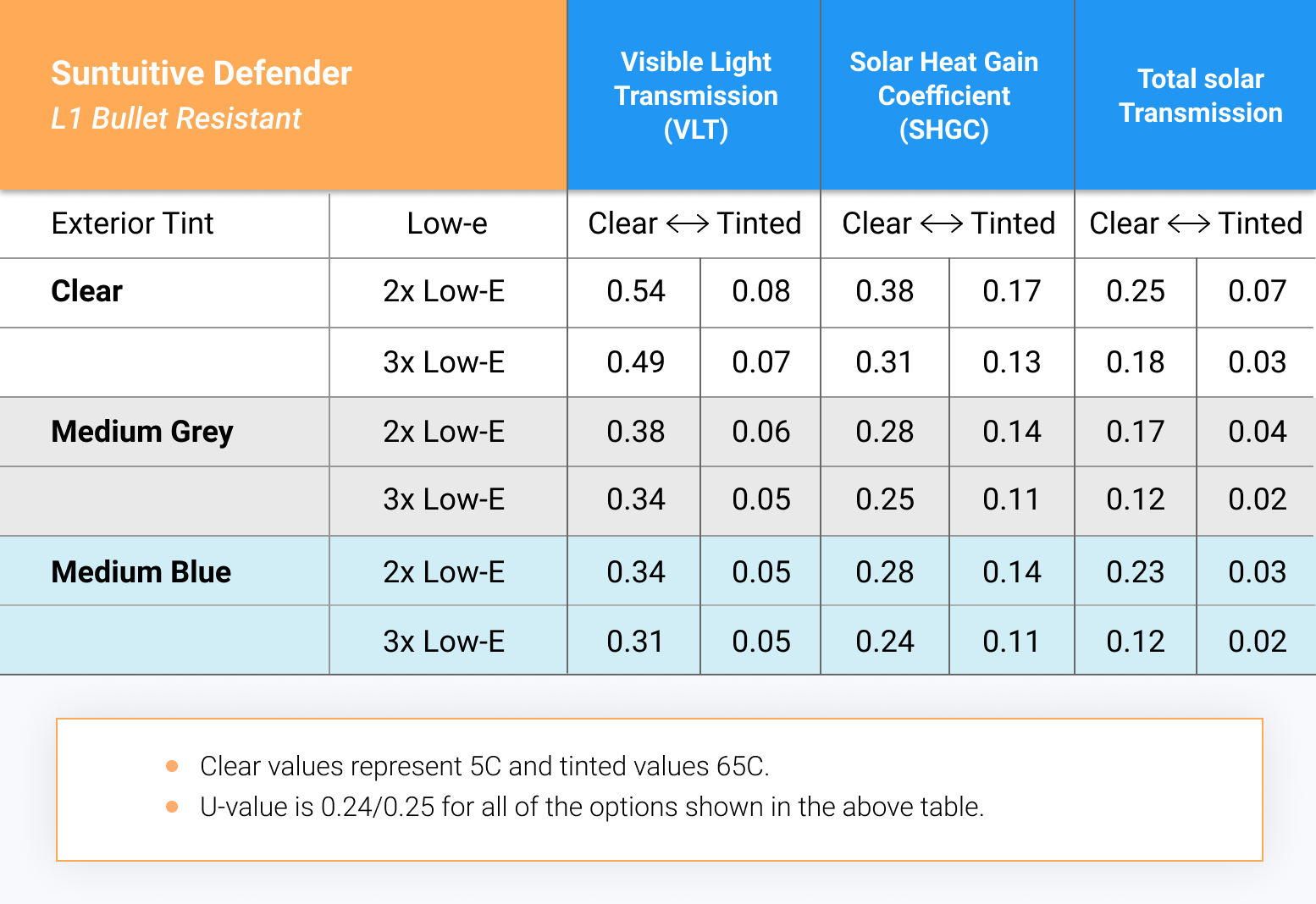 Suntuitive Defender – Your first line of Defense
Embassies, federal buildings, courthouses, stadiums and community centers. These are just some of the structures that currently demand some sort of protective glazing. These are important public structures that are designed for advanced protection. Traditional protective glazing is a great and effective product, but it is severely limited in performance from both energy efficiency and aesthetics. Suntuitive Defender changes the whole paradigm with a product that delivers multiple levels of security without losing the design and comfort advantages that have made Suntuitive Dynamic Glass the most adopted dynamic technology in the world.
More Daylight. More Comfort. Safer.
For too long buildings that needed additional security would reduce the window to wall ratio dramatically. Glass was considered a weak point and in many cases traditional non-protective glazing is indeed that. However with the development of Suntuitive Defender, the performance needed to protect is there, as are the benefits with natural light and the occupant comfort that goes with it.
Introducing Thompson Defender
For projects that do not need the solar protection, but do need the additional safety of forced entry or even bullet resistance, Thompson Innovative Glass, maker of Suntuitive, is now introducing Defender glass. Defender glass offers all the properties of high-efficiency insulated glass with the added availability of several levels of safety.
You may also be interested in this: