Thermochromic Dynamic Glass works BETTER.
Suntuitive Dynamic Glass is based on thermochromic principles, so the installation and function of the glass couldn't be more simple.
Dynamic IGUs.
Suntuitive Dynamic Glass is based on thermochromic technology. Our thermochromic elements, the dynamic heart of our glass, activate by the heat from direct sunlight causing the window to tint as necessary. These elements are embedded in a PVB (polyvinyl butyl) interlayer, which is then laminated between two pieces of glass. This laminate is then incorporated into the final product, a dynamic insulated glass unit (IGU).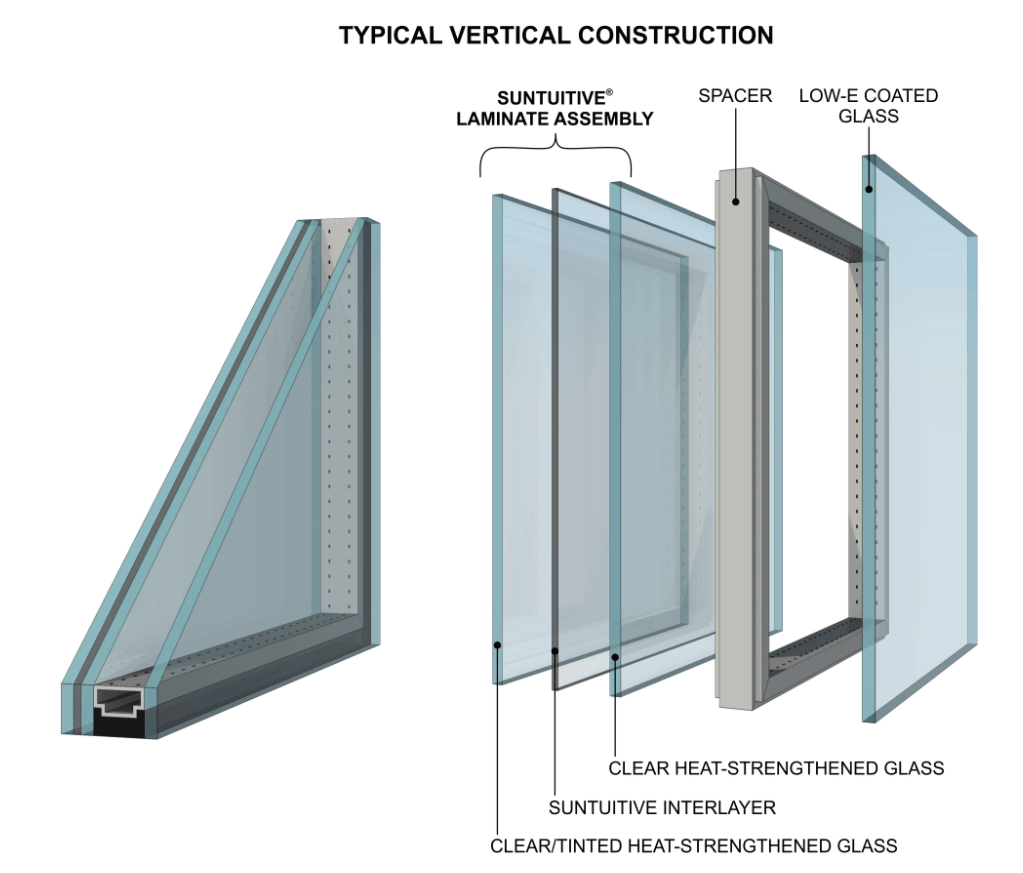 Thermochromic Dynamic Glass Technology.
Throughout the day as the sunlight heats the Suntuitive Dynamic Glass IGU, heat from the sunlight warms the window. The PVB interlayer becomes warm and darkens, creating a tinting effect over the window. As the sunlight recedes, the glass and interlayer cool, returning the glass to a clear state.
Performance.
Throughout the day, heat from the sun warms the window causing the PVB interlayer to darken, creating a tinting effect over the window. As the sunlight recedes, the glass and interlayer cool, returning to a clear state.
Visible Light Transmittance (VLT): Suntuitive Dynamic Glass constantly adapts to changing sunlight conditions. Throughout the year, this adaptive technology automates the amount of visible light let into a building by dynamically tinting when called for by various weather conditions.
Solar Heat Gain Co-Efficient (SHGC): As Suntuitive's thermochromic technology adjusts to direct sunlight throughout the day, it optimizes solar control and minimizes solar heat gain.
U-Value: Suntuitive Dynamic Glass has all the advantages of dynamic glass while at the same time retaining the benefits of a conventional high-efficiency IGU with its low U-values to prevent heat loss.
Energy Savings: Using Suntuitive thermochromic Dynamic Glass reduces the heat load of a building and can save up to 43%* on energy.
UV Protection: Suntuitive blocks 99% of harmful UV light.
Noise Reduction & Safety: Suntuitive's laminated construction offers noise reduction as well as added safety benefits.
Custom Options.
Suntuitive's interlayer can be used in combination with customized IGUs. Choose from various design options, including:
Suntuitive works with all of the major tinted glass products available on the market today including Gray (medium and dark), Blue, Green (light and dark) and Bronze. If you have a question on a specific color or style that you want to utilize with Suntuitive contact us for more information.
Maximum width is 65"/ 1651mm.   There is no formal limit on the height available with Suntuitive.  The production of the Suntuitive interlayer makes it available for as tall as you can design, however the fabrication of the product into IGU's is dependent on the capabilities of the fabrication partner.  If you have a question on sizes or have a jumbo or oversize project, please contact us for more information & details.
Suntuitive combined with the best of Low-E options makes the product perform at its highest levels.  Suntuitive can be paired with all styles of Low-E including Pyrolitic (also known as "Hard Coat") and Magnetron Sputter Vacuum Deposition  (MSVD) high-performance coatings (also known as "Soft Coats" or Double Silver, and Triple Silver).
One of the key advantages that Suntuitive Dynamic Glass offers is the ability to be used in most pattern cut applications.  Because there are no wires or special coatings, any out of square or shaped IGU that can be applied to a standard unit can also be utilized here.  Popular patterns include Trapezoids, Parallelograms, and Radius Tops.
Different applications can call for different thicknesses of Suntuitive Dynamic Glass.  It is available in monolithic (single lite) pieces as well as typical double pane and triple pane IGU's.
Durability and Testing.
We are committed to long-term durability in addition to continuous and vigorous internal testing.
Installation.
Windows with Suntuitive Dynamic Glass install the same as any other window or IGU, and can even be installed in operable windows and doors. Installation is simple and doesn͛t require any additional trades at either the design or installation phase.
You may also be interested in this: