Project Review: Quality 10 GDX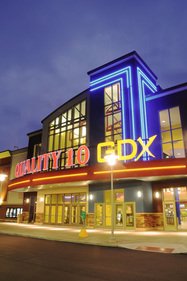 The new Quality 10 GDX Theater in Saginaw, Michigan, features more than high-tech sounds systems and wall-to-wall-screens; it also features the latest in dynamic glass technology. Looking to reduce sunlight, glare, and heat during the day, and allow for maximum visibility at night, Goodrich Quality Theaters selected self-tinting Suntuitive glass for its state-of-the-art cinema.
Architect Todd Ockaskis, an architect with Grand Rapids–based Paradigm Design, said the main challenge associated with designing the theater was configuring the glass for the south façade, which is exposed to solar heat gain throughout the day.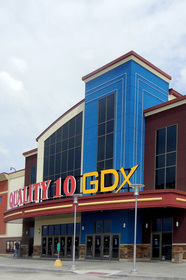 "We considered using permanently tinted windows, fritted glass, and mechanical shades, but Suntuitive glass offered the advantages of each without any compromises," Ockaskis explained. "The glass naturally adjusts to provide the perfect tint to counteract outside conditions, while allowing the glass to be clear at night."
Martin Betz, chief operating officer for Goodrich Quality Theaters, said the company's goal was to create excitement and recapture the market by replacing a 40-year-old multiplex adjacent to the site with a new, energy-efficient building.
"Being a theater, visual experiences play a major role in our daily business," Betz said. "It all starts in our lobby, where we welcome guests. We wanted a glass façade so that passersby could see the architecture and activity going on inside the building, but at the same time, we wanted the lobby to be a comfortable space with abundant natural daylight.
"Suntuitive glass was new to us, but after operating the theater through winter and summer, I'm happy to say the self-tinting glass has been a complete success, exceeding our expectations," Betz said. "It has helped us control our utility costs and added to the contemporary design of our building."
Have any questions? Let us know in the comment section.