Project Review: Lakefront Home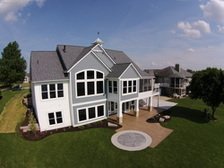 Dynamic windows featuring Suntuitive glass were on display at a private residence in Jenison, Michigan, during the 2014 Grand Rapids Spring Parade of Homes. Located on Cedar Lake, the 4,000-square-foot property was built by Celebrity Builders, LLC.
According to Rob Vis, co-owner of Celebrity Builders, the home was designed to inspire relaxation with its open floor plan and soothing atmosphere.
"In addition to being highly energy-efficient, this home was designed for carefree, comfortable living," he said. "The lake is to the west, and the sun's heat is almost unbearable on summer afternoons. That's why we selected Pleotint's Suntuitive glass. In addition to being produced by a local company, the unique, self-tinting glass adapts throughout the day without any controls or having to close the blinds as often."
Celebrity Builders installed low-e insulating windows by JELD-WEN with Suntuitive glass on the home's west- and south-facing elevations, which are exposed to the most solar heat gain.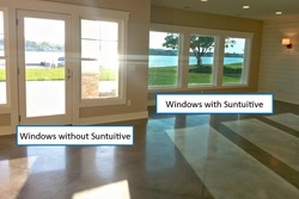 "The homeowners say the best part is they can watch their kids play on the beach or the boat, while they have a perfect view from the cool house," Vis added.
The home was one of the most talked about and most popular stops during the Parade of Homes. Of the more than 3,000 visitors that toured the home, many said they came to see the self-tinting windows after reading about them in Grand Rapids Press and on MLive.com. In addition, the home won two Awards of Excellence: Best Floor Plan and Best Curb Appeal.
We also recently received word that Celebrity Builders has secured orders for two additional homes based on this model, and the homeowner requested dynamic windows featuring Suntuitive glass.
Have any questions? Leave them in the comment section!