The Benefits of Daylighting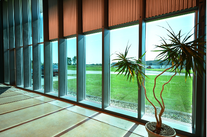 Daylighting is the process of optimizing the natural light coming into a building. Whether in a home or office, a daylighting system incorporates windows, skylights, and advanced lighting controls to reduce the use of artificial lighting and energy consumption.
Window orientation and the glass configuration are important factors in the effectiveness and efficiency of daylighting. Windows featuring low-e glass and a dynamic component, such as our Suntuitive interlayer, not only maximize natural daylight and preserve views, but they also reduce glare, solar heat gain in the summer months, and heat loss during the winter months.
While the initial cost of installing a daylighting system can be expensive, the benefits of using natural light will outweigh the initial costs. Here are four quick benefits of utilizing natural light:
Replace artificial light – A well-conceived daylighting system can be used in place of electric light for 70 to 80 percent of daylight hours.
Save money on energy costs – Electric lighting accounts for 20 percent of a building's energy use on average. In addition, because lights emit heat, reducing their use can reduce energy used to cool a building by 10 to 20 percent. By implementing a daylighting system, up to one-third of a building's overall energy costs can be eliminated.
Boost overall well-being – Even though many home and building owners are initially attracted to the potential energy savings, numerous studies have quantified how daylighting strategies improve:
Comfort in homes;
Attendance and test scores in schools;
Productivity in offices;
Recovery time in hospitals; and
Sales in retail stores.
Help the environment – Since power plants burn coal, oil, or gas to produce electricity, the widespread use of daylighting can conserve fossil fuels and dramatically reduce greenhouse gases and pollution. How much of an impact? A big-box retailer that implemented daylighting strategies was able to cut 618,200 pounds of carbon dioxide, 1,793 pounds of nitrogen oxides, and 1,706 pounds of sulfur dioxide from its emissions at just one of its stores over the course of a year.
To learn more on how the Suntuitive interlayer can enhance your daylighting system, please visit www.Suntuitive.com.   Daylighting