Three Reasons Why You Should Consider Self-Tinting Windows for Your Home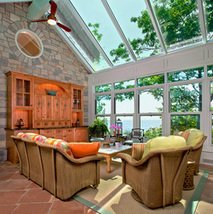 Windows are your connection to the outdoors and protection from its elements. While environmental conditions can be unpredictable, you should not have to compromise between comfort and view.
If it's time for new windows, how do you choose between all the different options? Here are three reasons why you should consider dynamic windows featuring Suntuitive glass for your home.
Use them anywhere
Suntuitive glass can be used in windows of any shape or size—including picture, bay, casement, double-hung, skylight, patio doors, etc.—and in most frames, including vinyl, wood, aluminum, and fiberglass. What's more, there are no wires or controls to worry about. Suntuitive glass naturally tints throughout the day, providing worry-free comfort and views.
Save money on energy
Suntuitive glass works with low-e glass in insulating units to help save money on energy costs, effectively paying for themselves overtime. The self-tinting windows will block out the sun's intense heat on sunny days and prevent furnace heat from escaping on cold days, so there's no need to constantly adjust your furnace, A/C, blinds, and drapes.
Protect your family and furnishings
Suntuitive glass helps improve your home's security. Because the self-tinting technology is incorporated into laminated glass, it holds glass fragments together in scenarios where it would normally shatter, such as forced entry or an impact from a stray baseball. Also, while natural daylight can brighten up a space, sunlight contains damaging ultraviolet rays that are responsible for fading furniture, paintings, and carpet. But, with Suntuitive glass, these harmful rays are blocked out, preserving your furnishings.
Whether you are looking for new or replacement windows, Suntuitive glass will preserve the view you want from your windows, while providing the comfort you deserve in your home—without compromise. For more information, read our brochure or leave a comment.