Thoughts from Greenbuild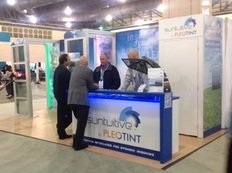 We hope you all had a great Thanksgiving! Now that we are back in the swing of things, we'd like to share a little about our experience exhibiting at the Greenbuild tradeshow that was held in Philadelphia a couple weeks ago.
Overall, the show was a success. It was exciting to debut our redeveloped Suntuitive interlayer, which now has a light-gray base color and offers more design flexibility by taking on the tint of glass the interlayer is laminated with. We had a bigger, redesigned booth this year, and despite being located "off the beaten path," we still had the opportunity to connect with a lot of people. A number of them even told us that they purposely sought us out.
If you've ever been to Philadelphia, you know it has a world-class museum and art scene. With new venues being built in the city, some of our visitors were asking questions about how the <em "mso-bidi-font-style:="" "="">Suntuitive interlayer improves daylighting strategies while offering protection from ultra-violet light and fading—key benefits of our technology that can help preserve delicate paintings and artifacts.
One of the most impressive things about the show was the general awareness and education the attendees had about, not only the dynamic glass industry, but the Suntuitive interlayer in particular.
There also was a strong student presence at the show. It was enlightening to chat with these future designers and hear their fresh perspectives on green building.
It was a busy two days on the show floor, but we did have some spare time to explore The City of Brotherly Love and enjoy its history, culture, and cheesesteaks. Thanks for the hospitality, Philly!