The Scene at Greenbuild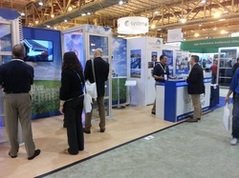 As the year winds down, we also see tradeshow season coming to a close. We recently exhibited at Greenbuild 2014 in New Orleans and we'd like to share a little bit about our experiences at the show and in the city.
As in years past, the show was a success overall. We were able to have some wonderful conversations with prospective and past customers, as well as other exhibitors, and we all tossed around some green-building ideas. Floor traffic was slow at times, which is to be expected, as educational sessions become more popular at tradeshows.
Unlike in years past—when every question we answered was about how self-tinting Suntuitive glass works—we noticed a shift to, "how do I get this in my building?" It's certainly a question we are more than happy to answer over and over again! People talked about how Suntutive glass could have been used to enhance their completed buildings, and how it could provide a better solution to their current projects.
It's also refreshing to know that while we still are a young company, design professionals and industry colleagues are learning our name, and we aren't the new kid on the block anymore.
There was a strong student presence at the show, which is a trend we've been seeing at most tradeshows. We enjoyed talking with these future design professionals and were impressed with their knowledge of green building practices and dynamic glass.
It wasn't all work and no play, though. We couldn't leave NOLA without taking a stroll down Bourbon Street and enjoying some great meals at some notable restaurants—the local food scene is amazing. We also spent one evening on the banks of the Mississippi, which was a relaxing way to finish off our time in The Big Easy.