Green Tips for the Holidays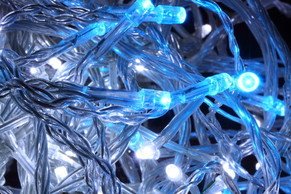 It's that time of the year again! The season is filled with twinkle lights, snowmen, gifts, and parties, but spreading holiday cheer can be tough on your wallet. With some thoughtful planning, you can make your decorations more efficient and eliminate some of the financial burden. Here are four quick tips to help you green your holiday season:
Energy-efficient lights – Invest in LED (light-emitting diode) lights for your tree and other displays. They use 90 percent less energy than traditional lights, can last 50 years, run cooler, and are much less of a fire hazard.
Turn off your lights – The easiest but most important tip is to always make sure you are unplugging or turning off your festive lights when you are leaving your home or going to sleep. You also can put them on a timer for worry-free illumination!
Wrapping paper – Get creative! Use comics, newspapers, grocery bags and other things you have around the house to wrap your holiday gifts.
The tree – If your tradition doesn't call for a real tree, invest in an eco-friendly artificial tree, but be mindful as some are made with environmentally unfriendly materials. If you do decide on a real tree, look to "treecycle" it after the holidays.
We hope these green decorating tips help make your holiday go smoother. Be safe and Happy Holidays from all of us at Pleotint!